DID YOU KNOW THAT THE CLAIMS OF
THOUSANDS OF LIFE INSURANCE BENEFICIARIES WERE DENIED OR
 DISPUTED LAST YEAR ?!!!!
IF YOU DON'T,
YOU SHOULD READ THIS
LOS ANGELES TIMES
INVESTIGATIVE REPORT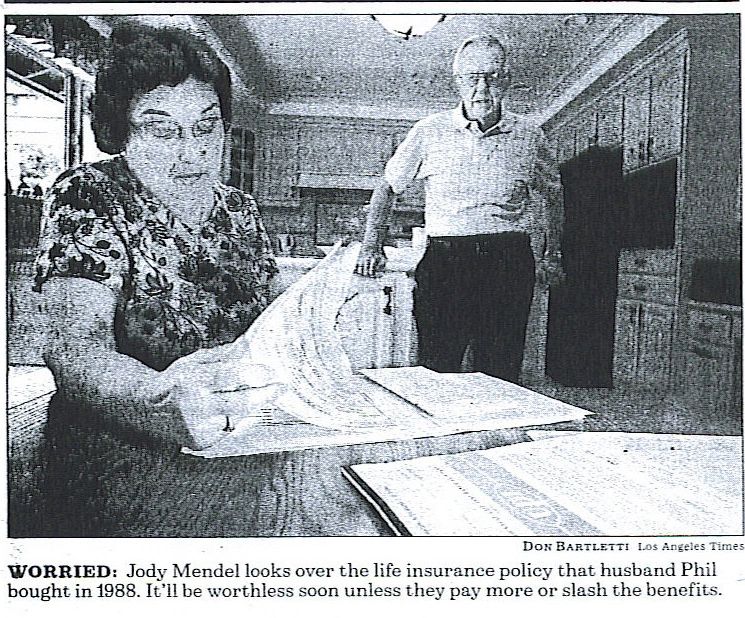 Man's life insurance policy 
       is coming to a dead end
 by
 David Lazarus

Philip Mendel prides himself on being the sort of guy who plans ahead.  So he purchased a
$100,000 life insurance policy in 1988 to cover any costs that would come up in the event of his untimely demise.
"I didn't want this to be something my wife would have to worry about," Mendel, 74, of Mission Viejo, told me. "I wanted her to have something to be able to put me away."
Now he and his wife are both worried.  The insurer, Conseco Life Insurance Co., has informed Mendel that to maintain his current level of coverage, his monthly premium would have to rise to $510 from $25.  "I told them they've got to be kidding," he said. "there's no way we could pay that much."  How is it, Mendel wants to know, that after 23 years of making the same payment month after month, with nearly $7,000 already invested in his life insurance policy, the insurer can suddenly slap him with an almost 2,000% rate increase?  Turns out this isn't a rate increase at all, but the upshot is the same:  If Mendel doesn't boost his premiums or lower his death benefit, his insurance policy will be worthless in a matter of months.
What's happening here serves as a cautionary tale for anyone who has purchased what's known as a universal life insurance policy or a flexible premium adjustable life policy.
If you go into such coverage without knowing all the facts, there's a good chance that, like Mendel, you could end up with nothing but a piece of paper to show for your years of payments.  On the other hand, a little homework about how these policies work can get you a pretty good deal on insurance.  For people who want to pay relatively little for coverage while still young, universal life insurance can be a smart bet.  Just don't expect it to be there for you in your sunset years. 
"Make sure you read the policy," said Gary Minkin, a Granada Hills life insurance agent. " You won't understand most of it, but take a yellow highlighter and mark the parts you want to discuss with your broker."
In Mendel's case, he said, there was no way a universal life insurance policy with only $25 monthly payment would go the distance.
"This policy was underfunded when he bought it," Minkin said. "It was designed to crash and burn at some point.
that's deliberate.  Policies like these are intended to protect you while you still have kids to put through school and a mortgage to pay.  They aren't designed to serve as long-term coverage.
Mendel said he can't recall what his broker told him when he bought the policy 23 years ago.  But he doesn't remember being told that his insurance would begin to disintegrate after a couple of decades.
In any case, the onus is on the policyholder to read the annual statements that are sent by the insurer.  If you know what you're looking for, Mendel's statements for the last few years make clear that the cash value of his policy was declining.
What they don't do is say in plain English that because his premiums were so low, the insurer was chipping away at the cash value of the policy to cover it's fees and costs- a process that would inevitably leave the policy worthless.  Instead, Mendel's statement last year said that "if you continue to pay the same amount of premium that you paid during the last policy year, your life insurance coverage will continue for 1 year and 0 months, based on our guaranteed interest rate and the guaranteed cost of insurance rates shown in your policy."
When Mendel's most recent statement arrived last week, it said making the same premium payments would maintain his policy for "0 years and 4 months."  Unsure what that meant, Mendel said he called Conseco and was told by a service rep that the only way he could maintain his current benefit level would be to boost his premium to $510 monthly.
"this is not a rate increase," said Barbara Ciesemier, a spokeswoman for CNO Financial Group Inc., parent company of Conseco Life Insurance. "His premium is still $25 and his benefit is unchanged."
For another few months, that is.  After that, Mendel's only choice if he wants to remain insured is to switch to a new policy with a much higher premium or to significantly cut his death benefit to make his current policy last longer.Or he could take the roughly $3,000 in cash value remaining on his policy and put it in a certificate of deposit or some other low-risk investment, and hope that when he shuffles off his mortal coil, his funeral expenses aren't that steep.
"Insurance is very complex, whether you're 83 or 33," Ciesemier said. "You need to fully understand what you're buying and how it works."
Mendel said he's not sure what he's going to do now.  He'll speak with an insurance broker - a new one and see what the best plan would be.
For anyone else with a universal life insurance policy, I'd say you should get on the horn with your broker as well. Confirm that your premiums and desired benefits are in sync. if not, fix things before your insurer starts taking bites out of the cash value of your coverage.
______
David Lazarus' column runs Tuesdays, and Fridays.  He also can be seen daily on KTLA-TV channel 5.  send your tips or feedbacks to david.lazarus@latimes.com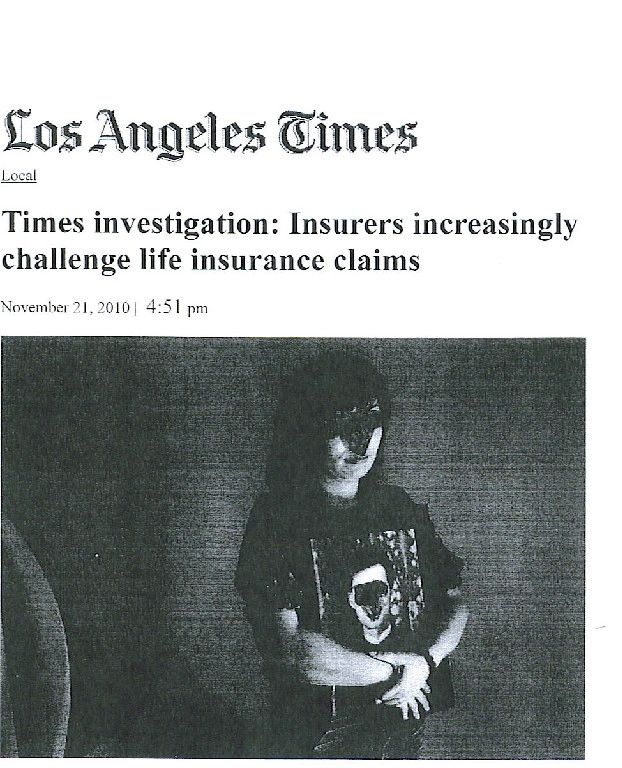 Typically, life insurers make good on policies, paying $38billion  in death benefits on individual policies last year. But a time review found that the claims of thousands of beneficiaries are denied or disputed every year - more than 5,000 last year alone- many for allegedly flawed applications,a time review found. 
Overall,the amount of money life insurers withheld from benrficiaries has more than doubled over the last decade, to $372 million last year,even as policy sales went down ,according to a Times' analysis of data compiled by the National Assn.of Insurance commissioners.
Insurers can dispute claims for a number of legitimate reasons – unpaid premiums, suicide, foul play by the beneficiary.  But the No. 1 reason, accounting for about two thirds of disputes last year, is "material misrepresentation." That's failing to disclose information that insurers deem important in assessing risk, and it allows insurers to rescind coverage altogether.
To stop abuses by insurers, most states long ago banned limitless rescissions, but in California and elsewhere, they are allowed during the two years immediately after a policy is signed.
Experts, and consumer advocates say some insurers have turned that into a "gotcha period," seizing on flaws after claims are made that they could have looked for before issuing coverage.
"Regulators need to come down hard on companies that are rushing applications through in order to gain premium income without taking time to screen the risks, then using rescission to control payouts and increase profits," said Amy Bach, an advisor to National Assn. of Insurance Commissioners and executive director of United Policyholders, a nonprofit consumer group.


DO YOU HAVE LIFE INSURANCE?
LOS ANGELES TIMES INVESTIGATION:  Nov. 21st, 2010
Insured?  Don't bet your life on it 
 Insurers increasingly challenge life insurance claims
 Claims of thousands of beneficiaries are denied or disputed every year
 More than five thousand last year alone  
Experts and consumer advocates say some insurers have turned into a "gotcha period" seizing on flaws after claims are made that they could have looked before issuing coverage

 WHAT IS THE POINT OF HAVING LIFE INSURANCE POLICY (IES), IF

WHEN YOU NEED IT, IT MAY TURN OUT TO BE USELESS.
                There could be many flaws to make your life insurance policy (ies) useless.
Remember, those who created or ingnored the flaws in the policy (ies) are not able to recognize or discover the flaws.  let another qualified expert, with comprehensive knowledge and experience in life insurance, review it.

 NOW, AS A COURTESY TO OUR COMMUNITY AND FOR A
SHORT TIME ONLY, WE ARE OFFERING YOU A FREE
REVIEW OF YOUR EXISTING LIFE INSURANCE POLICY(IES)
OPPORTUNITY KNOCKS ONLY ONCE!! OPEN YOUR DOORS TO IT!!
REVIEW YOUR EXISTING LIFE INSURANCE POLICY (IES) AND HAVE
 PEACE OF MIND
For a FREE review of your existing life insurance policy (ies) please call us at:
(310)560-4141


We reserve the right to refuse service to anybody. This service is only available in the State of California.
This pamphlet is only for information purposes, each case has to be reviewed individually.